Anand Akerkar, Ph.D.
President & CEO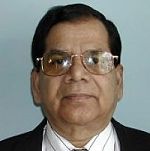 Dr. Akerkar has been working in the Pharma and Diagnostics Industries for over 40 years as scientist and consultant. He had worked with Ciba-Giegy, Becton Dickinson, Technicon Corporation and has provided consulting on product stabilization to numerous small and midsize companies; and, has specialized in working with stabilizing complex organic molecules, in particular making room temperature stable diagnostics reagents and controls.
Dr. Akerker received his a PhD in Organic Chemistry from the University of Bombay.  Dr. Akerker's unique ability to combine his knowledge in science and his years of business experience has proven to be a great benefit in assisting companies by using his facility to weed out the superfluous and bore into  the core of a problem. His approach to the issues a company faces in the area of stabilization is exceptional, yet, simple and surprisingly easy to understand and implement. The matrixes he has developed, SeraSub, UriSub and LoSo UriSub are the type of products that bring his straight forward problem solving ability to the In-Vitro diagnostic industry.
Dr. Akerkar is known as a leader in the field of analyte stabilization.